Introducing Cloud-based Vein Authentication Solution (Security Solution from T4U Part 2)
※This article is a guest post by T4U Co.,Ltd
Part.1: Security Circumstances and Multi-Layered Protection (Security Solution from T4U Part 1)
Cloud-based Vein Authentication Solution – VIP System
The VIP System is a security solution based on multi-layered protection. VIP is stand for Vein Identification Platform.
It is a combination of thin client system and finger vein authentication enabling realtime monitoring and data encryption.
In thin client system, a terminal doesn't have information and using external device can be prohibited. Therefore, it can keep high security even if the user is not familiar with IT related knowledge.
Thin client system provided by T4U can protect not only the endpoint but also any data on server side by using access control, printing control, realtime monitoring and automation encryption.
Most existing thin client systems have assured security after logging-on but they can't execute an identity verification. The VIP System enables verifying the user using biometrics.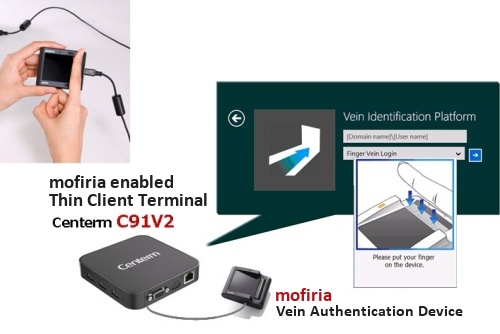 The user accesses to a server through a thin client terminal and uses approved applications and files.
It is an important factor in a security viewpoint to login using ID and vein authentication instead of using ID and password. As you can see on the diagram above, both Centerm terminal and vein reader are very compact.
Supported thin client system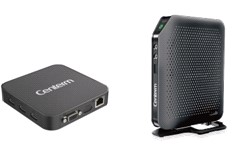 Thin client system for VIP consists of thin client terminal and management software on server side.
Though a thin client terminal has a CPU, main memory and hard disk drive, it can't be used as an ordinary computer. All applications and data for terminals are stored on the server.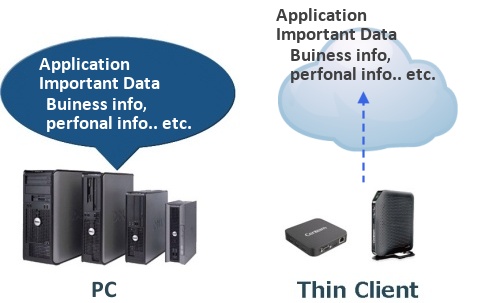 Some companies and organizations introduce a virtual desktop solution using ordinary computers to enhance their security level. In this case, however, they have to introduce the terminals that need to manage physically as many as the users. Managing ordinary computers can be very troublesome.
Thin client system enables system administrators to reduce time and effort by comprehending the security status for client terminals and executing some maintenances to all terminals at once.
Advantages of thin client terminal
Using thin client terminals has mainly the following four advantages:
1 Saving the operation cost by bulk management
Unlike a personal computer, you don't need to install operating system and application one by one. The user can start using a terminal by applying a predefined image. Also, you can keep high security since installing software is restricted.
2 Enabling stable and long-term operation
The failure rate of the terminal is relatively low as it has fewer parts. The more terminals you have, the lower the whole maintenance cost. It can also be energy saving since it doesn't need so powerful processor as an ordinary computer.
3 Preventing data leakage
It runs any applications on server side and exchanges data with the server through network. No data is left on the terminal and mobile computers such as tablet and smartphone can be a terminal.
4 Supporting different workstyles
Recently new types of working such as home teleworking or satellite office is getting popular. Even on a personal network environment, thin client can provide the users with the same working environment as the office with keeping security.
Thin client terminal supporting finger vein authentication: Centerm C91V2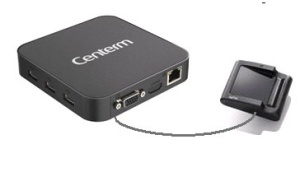 The thin client terminal that VIP System adopts is Centerm C91V2, which is a high performance terminal that supports Linux OS.
It provides the users with high processing ability and visual experience on a virtual environment by mounting a powerful processor and supports 1080P multi-format video play back. You can decrease TCO, total cost of ownership, since the server can do any maintenance including upgrading the system and distributing a patch at once.
Furthermore, it supports multiple protocols including Microsoft RDP and Citrix ICA. You can use it on any environment not only on a client virtual environment but also on a cloud environment
High-specification thin client terminal: Centerm C92
Centerm C92 mounts an Intel Bay Trail-D (Celeron) quad-core SoC processor. It supports standalone and virtual desktop environments. It enables providing superior graphic ability and rich HD entertainment by supporting CPU centralized applications and high graphic demanded applications.
As it supports a WQHD resolution by using a DisplayPort, it can play high quality and resolution video.
It also supports a variety of protocols including Citrix ICA, VMware View, Microsoft RDP and so on.
Thought it is a high-end client terminal with with the highest level of abilities, the price is lower than other competitive products. It supports Windows 10 IoT and Linux OS.
For details about Centerm products, please refer to here.
If you have any questions, please contact us.
---
Author of this article
| | |
| --- | --- |
| | T4U Co.,Ltd |
10/19/2017