— Building accurate security environments using Bluetooth connected vein authentication unit, FVA-U4BT —
Working Together with Attendance Management System
idearecord, inc. has a concept as 'Web solutions on chain store business' and helps the customers to solute various problems around chain stores.
idearecord's cloud type attendance management system 'CREW CHECKER' enables identity verification using mofiria's Bluetooth connected finger vein authentication unit FVA-U4BT.
It helps to remove common problems regarding time card and ID card such as forgetting to punch, losing a card and unfair processing including proxy time recording.
Since each finger has a different vein pattern, it is so hard to forge and impersonate. Thus, finger vein authentication is very effective for any scenes that require highly accurate security.
Also, idearecord's 'Person Authentication System' can execute identity verification only with an Android terminal and mofiria's Bluetooth vein authentication unit FVA-U4BT, which can be available at various scenes and locations since it is space-saving and easy to carry. You can verify a user using secure finger vein authentication and build a reliable environment without having to introduce large-scale facilities.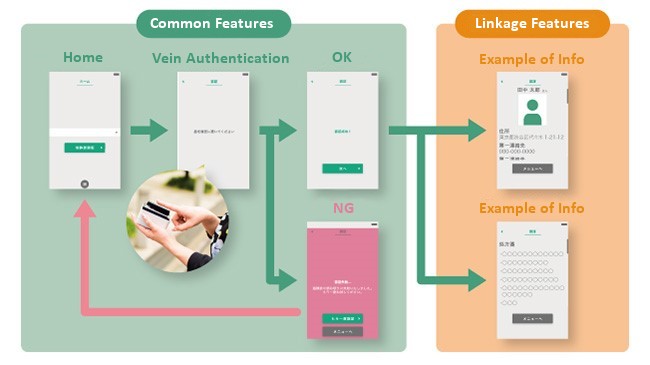 Why is the accuracy for finger vein authentication high?
'Finger vein authentication' is a method that identify a person using vein patterns inside the finger.
It extracts a vein pattern by highlighting it using near-infrared light that is absorbed by reduced hemoglobin in blood flow of vein and capturing the pattern by CMOS sensor. This technology executes an authentication process by comparing the captured vein pattern with pre-enrolled one.
Since it uses the information inside a finger, the usability isn't affected by the surface conditions of a finger such as dry, wet, rough, injury and so on. Also, unlike fingerprint and other modalities, it doesn't leave a track nor visible information, and it is extremely difficult to forge and impersonate.
For example, 'finger vein authentication' is effective for the following scenes:
●Coping with dementia people
You can utilize it to identify a person who has dementia and possibility of wandering.
●Going to hospital with cardless and empty-handed
At hospitals and pharmacies, you can use vein authentication instead of a consultation ticket and/or an insurance certificate. It not only realizes a convenient system that a patient doesn't have to have some cards but avoids a spoofing and mistaking the patient.
●Empty-handed payment
You can use it for the payment at any locations that are unsuitable for carrying a wallet or a credit card such as spas, beaches and so on.
●Prepayment
You can utilize it for the payment for some shops in a specific area or canteens by depositing in advance.
●Introducing to banking institutions
You can utilize it for identity verification at teller windows.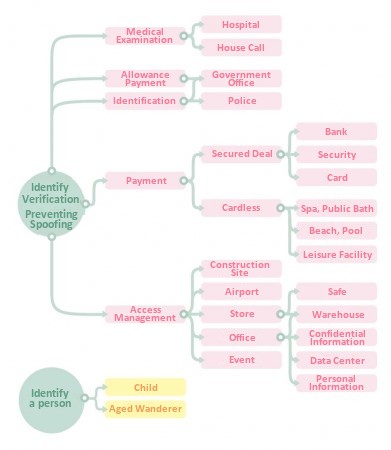 The 'Person Authentication System' consists of the common features section for identifying a person and the linkage features section for displaying further features after a successful identification. For the linkage features section, it can work together with various database including some personal information systems, medical records and so on.
The system has flexibility in coordination with API and in installing into the intranet system of the customer depending on the security level.
---
Author of this article


idearecord, Inc.

04/17/2018