Cady Leads New Style Healthcare Service

Overview
Cady developed by HealthMax Co., Ltd. is an uninhabited booth that provides advanced healthcare service. As of August 2019, it is currently used by over hundreds of thousands users in USA, Korea, Indonesia and Chile. They are considering the introduction into Japanese market.
The users can measure height, weight, blood pressure, body composition, cholesterol and stress by themselves at this booth. The results are accumulated in HealthMax cloud server as personalized healthcare data and the users can check their own results and transition from the past on a kiosk terminal in the booth or specialized mobile app MyCady.
The installation sites are mainly public health centers, sport gyms, golf courses, large-scale apartments, corporations, temples and so on for now. It is expected to introduce into various fields in the future.
Compared to other healthcare services, one of Cady's advanced features is that it certifies the data for each user definitely belongs to the user themselves using finger vein recognition.
Cady has many possibilities using this charasteristic such as utilizing for insurance assessment data, remote healthcare service or disease prediction service by third party medical institutions and cooperation with other healthcare devices.

Cady variations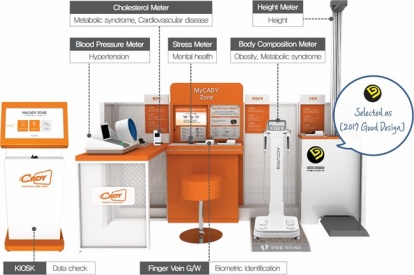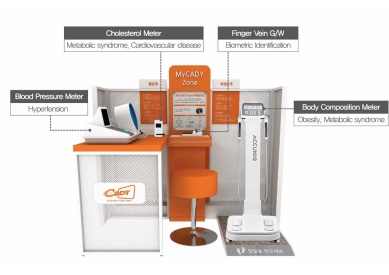 Cady has two versions, Pro and Basic. In Pro version, you can measure height, weight, blood pressure, body composition, cholesterol and stress. A display terminal in the booth can display personal data. In Basic version, you can measure blood pressure, body composition and cholesterol, and the booth doesn't have a terminal.
Also, in Pro version, multiple users can measure at the same time since the user does the authentication process for each measuring device.
Used Mofiria Components
The current method is 1:1 authentication after entering the user's phone number. But HealthMax has a plan to introduce 1:N authentication in the future or partially.
Contact
HealthMax is going to deploy this service into other countries market and cooperate with other healthcare services. For details, feel free to contact us.