IC card based authentication product: FSS SmartLogon MFVA

FSS SmartLogon is an authentication solution developed by Laurel Intelligent Systems that enhances a logon process to Windows computer to multi-factor authentication.
They have adopted mofiria's finger vein authentication as an alternative option for password. It enables the product to provide the users with much more secured user authentication solution by preventing unfair uses of IC cards.
The risk for leaking of templates, data for finger vein information, is extremely low as any templates for each user are stored into a secured IC card. And compared to system that stores templates into server or external storage, it doesn't have a risk for large amount of leak.
This product doesn't need an authentication server as it adopts match-on-device method that any authentication process is done inside finger vein authentication device. It enables you to expand and deploy the system easily, as well as introduction from one license at least.
It is possible to adopt any IC cards for existing FSS SmartLogon users. It also possible to adopt only to specific terminals that requires secured verification.
Main Features
Manages logon to PC by IC card and finger vein authentication
Locks a terminal immediately just by detaching IC card
Manages ID and password for various enterprise systems and auto-sending function
Restricts any access to removable media and media drive
Records operation log
Content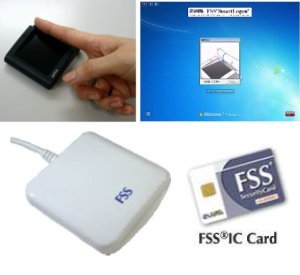 mofiria finger vein authentication device: FVA-U series
FSS IC card
FSS IC card reader/writer
FSS program CD-ROM
Used mofiria materials
| | |
| --- | --- |
| Finger vein authentication device | FVA-U4ST / FVA-U3SX / FVA-U2SXA / FVA-U2SX |
| Software development kit | MSDK-DCL-02 for Windows |
Contact
This product can support a variety of combination and operations. For details, please feel free to contact us.
FSS SmartLogon Web site