Key BOX
"Finger vein authentication Key BOX" is a battery-powered key box which uses mofiria FVA-E2SX module and a low cost microcomputer. FVA-E2SX has a RS-232C interface other than USB interface, and it allows the low cost microcomputer to control the device.
System Summary
The system consists of: 1) key pad to input ID of the user to be authenticated; 2) LED for indicating the status; 3) speaker for beep; 4) SD card to store the pre-enrolled template of the user; and 5) solenoid for door open/close.
The control operation is very simple as follows:
Input ID of user to be authenticated.
Load the corresponding template from the SD card using the ID, and import the template to FVA-E2SX.
Detect the placement of a finger on the device, and send the authentication command to FVA-E2SX.
After receiving the authentication result, microcomputer opens or closes the door.
System Diagram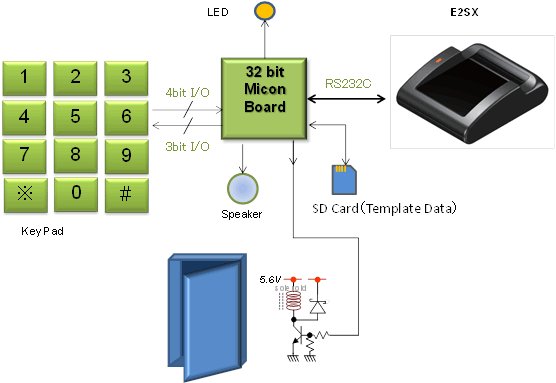 Key BOX Specification
Item
Contents
Usage
Key Box Access Control
Power
Signal processing: 5.0V
Door solenoid valve: 5.0V
Input
Real template from a recording media using the ID number input
Recoding Media
External Memory
Enrollment
Enroll template using another system, and save template in recording media
Communication
Inside chassis, connecty by RS-23C interface Unencrypted communication(*)
Door Unlock/Lock
Unlock after successful authentication
Lock after certain period of time
Emergency Evoidance
Long password, Use master key
*Template data is encrypted
Sequence chart (Basic operation)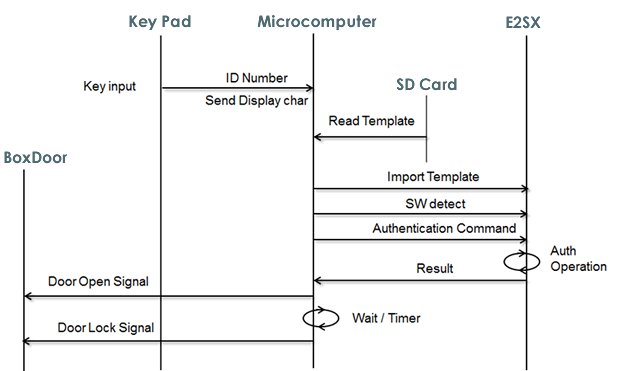 Implementation
Embedded FVA-E2SX to commercial Key BOX.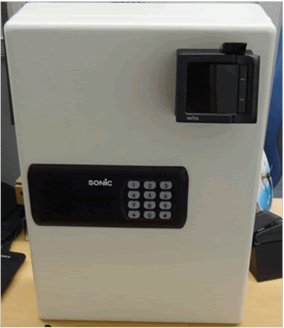 *The sample source code and design files available through "Development Kit for Physical Access Products
Please contact the following address for the detail
Mail Form