Multifactor authentication integrated platform – EVE MA

EVE MA is an authentication platform for Windows developed by DDS, Inc., which supports various methods including IC card, biometrics and so on.
About 4% of people don't have a fingerprint that can be utilized for biometrics. mofiria provided their patented finger vein authentication solution to support those people and accomodate a request for much securer biometrics solution from some end-users. EVE-MA with mofiria's finger vein authentication solution is used by many corporations as well as local government offices.
Accommodating various needs from enterprises
Manage and operate the authentication system mainly on Active Directory
Apply IC card and biometrics authentication to network authentication and application authentication as well
Utilize existing IC card for entrance system to PC security purpose as is
Each department can apply a different operation of biometrics and IC card authentication
Enhance security level by combined authentication of IC card, password and biometrics
Overview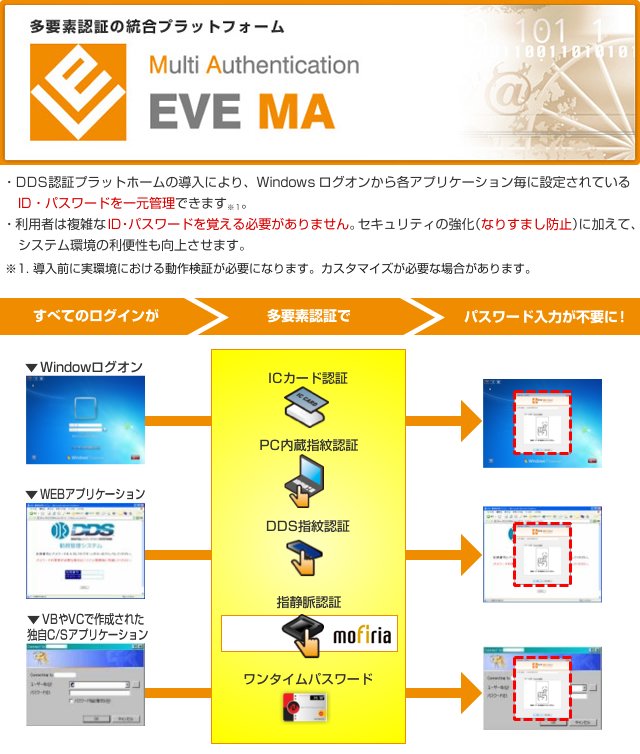 Used mofiria materials
Finger vein authentication device
FVA-U3SX / FVA-U2SXA / FVA-U2SX
Software development kit
MSDK-U1W1
(currently: MSDK-DCL-02)
Contact
This product can support a variety of combination and operations. For details, please feel free to contact us.
EVE MA Web site