※This article is a guest post by DDS, Inc.
Features of EVE MA
EVE MA is a high expansibility plugin architecture, which enables a flexible configuration on authentication base for enterprise system.
It replaces the method of user authentication for various systems from ID and password entry to multi-factor authentication method using different biometric modalities (fingerprint, mofiria's finger vein, palm vein and face recognition), IC card (FeliCa and MIFARE) and so on.
Assured identity verification reduces any security threats. It cooperates with Active Directory seamlessly and enables a flexible configuration for any organizations and groups.
EVE MA integrates multiple authentications such as Windows Logon, business applications and virtual desktop, and provides safe and easy-to-use authentication platform to suit user's environment.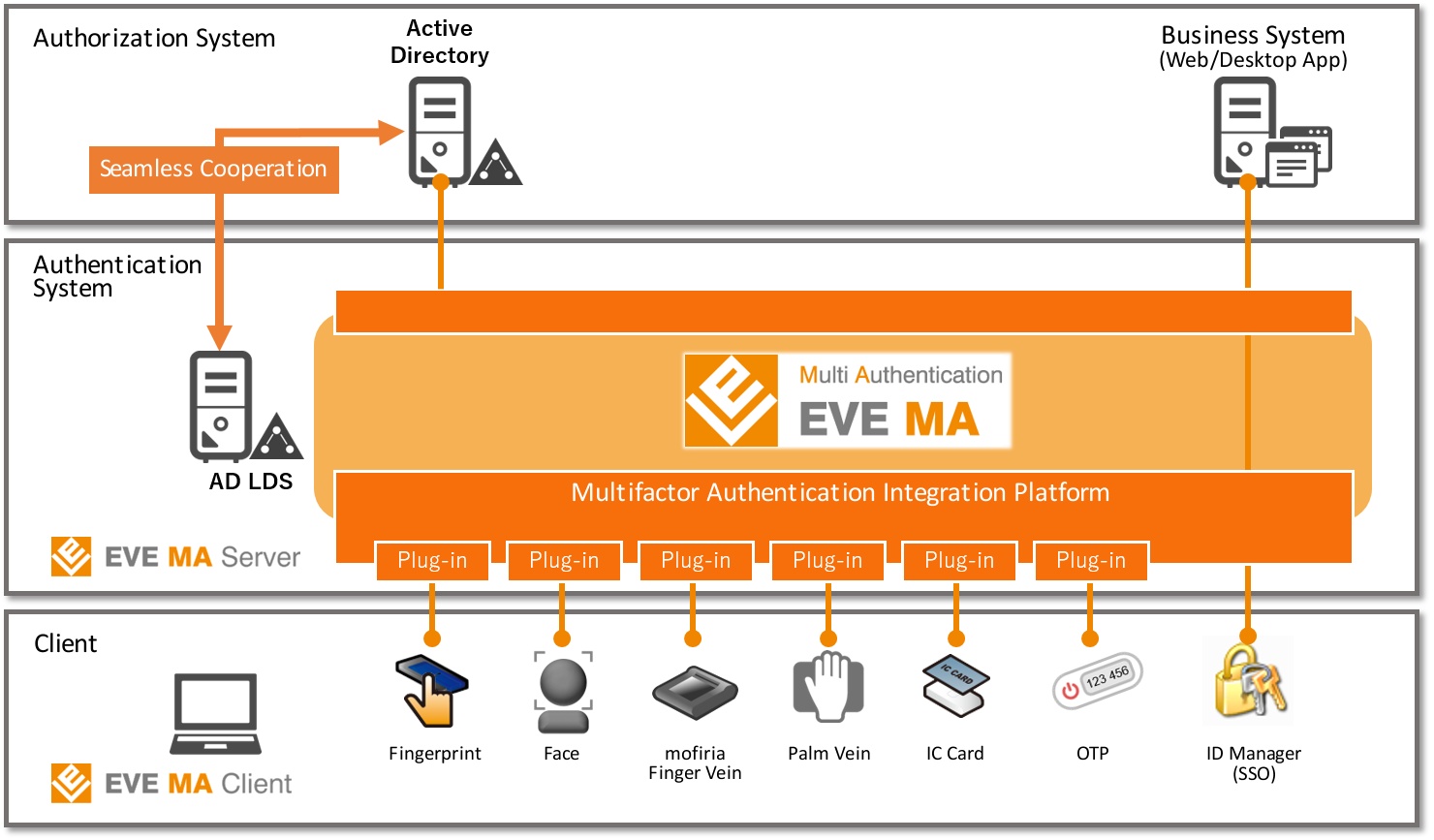 EVE MA Multifactor platform (click to enlarge)
Supporting various enterprise demands
Manages and operates authentication system based on Active Directory
Utilizes existing IC card used for entrance management system for PC security
Provides higher security by multi-factor authentication (each user group can have a different protection level)


Enables working with Active Directory and configuring each application separately (click to enlarge)

Applying multi-factor authentication to application authentication and network authentication as well as authentication on virtual desktop (You can apply biometrics even to application authentication in the host on virtual environment)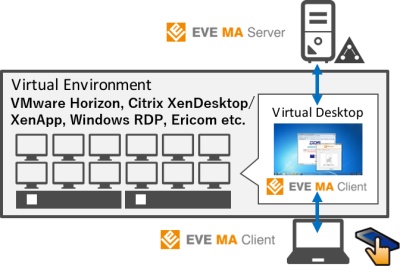 Works for authentication on virtual desktop
Hybrid Fingerprint Authentication
DDS adopts the hybrid fingerprint authentication method, which combines their own algorithm using frequency analysis method and the common minutiae matching method. This hybrid method uses both matching methods at the same time and utilizes multiple hybrid feature amount. It realizes high performance fingerprint authentication by utilizing the advantages from two algorithm.


Hybrid Fingerprint Authentication Method (click to enlarge)
Finger Vein Recognition by mofiria
In 2009, when DDS sought a new element to add their multi-factor authentication, B2B Solution Business Division at Sony Corporation introduced the finger vein authentication technology 'mofiria'. Though there are some other candidates including different finger vein or palm vein authentication technologies, DDS adopted 'mofiria' with the cooperation of Sony because it has some advantages including compact device, small data size and fast processing speed.
Since DDS released the first supported version of EVE MA Release 1.52 in May 2010, the latest version is Release 3.90 as of August 2017, mofiria is always playing an important part of multi-factor authentication.
---
Author of this article
DDS, Inc.
Sales Division Sales Promotion Section

09/13/2017